Explore Webforum
We have developed a platform that brings together all the essential tools you need to free up time for yourself and your project participants. You can now focus on driving successful construction projects instead of searching and compiling information!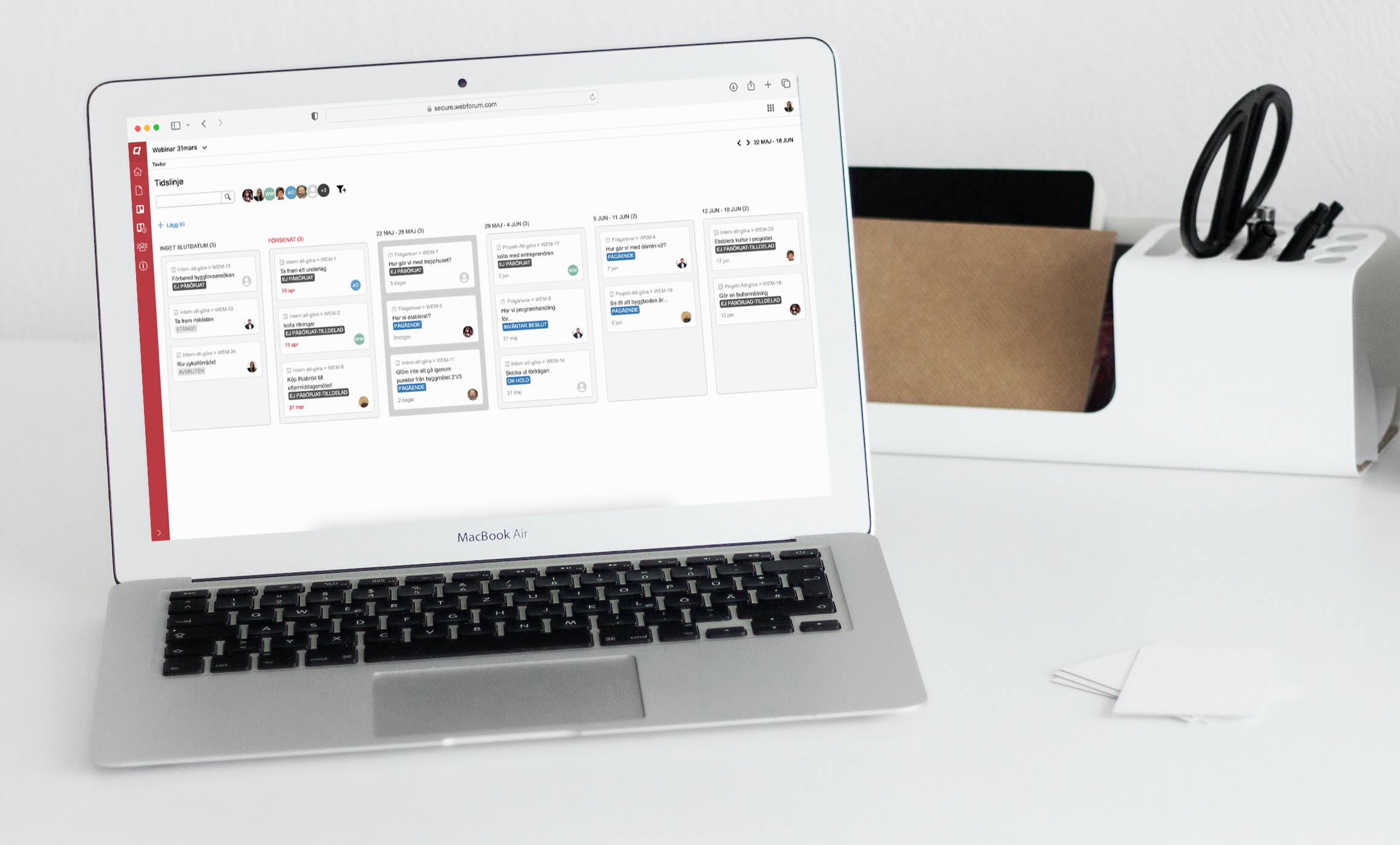 Bring everything together in one place
Here you will find all the tools your project needs. Often, a shared space for document sharing is not enough. Here, you can also manage Questions/Answers, Deviations, Checklists, and all other project-related information. Of course, it also includes communication within the project team!
Easy to do right
At Webforum, we utilize permission roles to facilitate collaboration in projects. With the appropriate permissions, it becomes clear where and how to work with documents and manage other information. Collaboration among various stakeholders in construction projects becomes both seamless and secure.
Searchable and traceable
Sometimes having a good structure alone is not enough to find the right information. To save time, there are both a simple search function and a more detailed search available in all parts of the project. Popular searches can also be saved and shared with others who want to save time. It is important to be able to refer back to logs to understand what has been changed along the way, both in documents and other project information. That's why all changes are logged and saved throughout the entire lifespan of the project.
What are our customers saying?
"I would estimate that we have saved at least one hour per person every week, which, for a team of 20 people in a typical ten-week project, results in a total savings of 200 hours, conservatively speaking."
"We chose Webforum because it is a scalable platform that helps us gather all the information from our construction projects in one place. We have great confidence that Webforum will facilitate our collaboration both internally and externally, while also contributing to our ongoing efforts to minimize environmental impact."
This is how easy it is to get started with Webforum
What features does Webforum have?
Webforum's solution supports the core processes in construction and infrastructure projects. In addition to world-class document management with built-in drawing and model viewers, it also handles features such as Question/Answer, Deviations, Checklists, and all other project information management. Of course, communication with the project team is also included.
Do you offer migration of ongoing projects?
At Webforum, we can assist in migrating your ongoing and completed projects to our platform.
Webforum supports the import of documents, including metadata and user information. Additionally, we provide an open API for seamless uploading of large deliveries.
Is it possible to have multiple projects running simultaneously in Webforum?
There are no limitations on the number of projects that can be managed simultaneously in Webforum. There are also no restrictions on the number of participants or document volumes that can be handled. The solution provides overview views that display schedules for multiple projects and documentation for all projects.
How do the permissions work?
In projects, we utilize permission roles to share information in a correct and secure manner. There is also the option to use overarching permission roles, such as determining which groups are allowed to create new projects.
How can I keep track of what changes/happens?
The solution offers various methods to notify about new events and updates in projects. Some are automatically sent by the system, while others, such as notifications or messages, can be configured by users themselves.
Is it easy to onboard all users and get them to use the system?
Yes, Webforum is known for being highly user-friendly, and features such as document management, which resembles file explorers in many ways, make it easy for everyone to understand and use.
How does your file management work?
The system handles all file types, and our viewers support all common file formats for drawings and models. We also have integration with Office365 and can offer simultaneous editing through Office Online.
Which project model do you follow?
Template projects in Webforum can be customized to support different project models. The customer's document templates can be uploaded to the template library to be used according to the project methodology.
Over 40,000 users rely on Webforum every month to foster collaboration and reduce waste in construction projects! Do you have the right conditions for your construction project?